Up and atta'em! Hubby got home late from his one day trip to LA but still got out of bed early to go with us to the doctor's appointment. While he and Munchkin chowed down on fried eggs I laid out clothes and wrote down a grocery list. I wasn't hungry so skipped breakfast and soon we were off for town.
My doctor (who is awesome and completely supports my style of eating) was called in to the hospital so I was checked out by my favorite nurse: weight: 1 pound gain; blood pressure: 110/70; baby's heartbeat: 160 beats per minutes (kiddo was kicking and flipping a lot-at least one of us getting their exercise in); getting enough sleep and feeling great! It was a fairly short visit and the big fun was getting to hear the heartbeat (always a blast) and scheduling the next ultrasound where we'll find out if its a girl or a boy.
After the doc's we swung by Market of Choice to pick up some kale (they always have dino kale which is Munchkin's favorite) and to browse. This is always a mistake since I walked in expecting to
only
get kale and walked out with cherries (yeah, I broke down, and boy were they spendy!), dark chocolate, Kerrygold butter, and local (sorta) cheddar cheese.
Yes folks, we do eat dairy. I never said we were 100% perfect paleo.
There was still stuff on my list so next we went to Costco. We should have gone there first-cherries were almost half the price, as was cheese. grrrrrr. We stocked up on
Aidells sausage
, produce, and
Mezzetta Marinara Sauce
. I had to wander the book section and look what was there!
Congrats
Bill and Haley
!
Everyone was hungry once we were done shopping so they got foot long hot dogs. By then I was starving (yeah, shoulda ate breakfast), and had a bite of Munchkin's dog. The meat itself was tasty but the bread was mushy and had a weird texture-not sure if my tastebuds have changed or what the deal was but Munchkin and Hubby devoured theirs in short order. Not the best of lunches but better than a toddler/husband meltdown.
Once we'd loaded all our goodies into the car we zoomed over to
Cash & Carry
for meat and more veggies. I knew we weren't going to make it to the farmer's market this weekend so I stocked up. The meat wasn't organic, pasture-raised perfect, nor were the veggies, but the budget is a little slim this month and sometimes ya gotta
make compromises
.
Finally we headed home. While Hubby got Munchkin settled for her afternoon nap I put all our loot away...
...while nibbling on cherries.
Yeah, I munched on these all day long. Next I trimmed the fat from a tri-tip and covered it with dry rub to make
Oven Roast Tri-Tip
for supper before finally throwing together a late lunch of steak sliders.
Yep, I'm having steak twice today. While Munchkin slept I shared a bunch of grapes with Hubby and goofed around on Facebook. (I also surfed the web for paleo recipes so it wasn't a complete waste of time.) I tell ya, it felt good to sit down after such a busy morning.
For supper I opted to grill the tri-tip rather than oven-roasting it. Why? So I'd have one less pan to clean.
Along with the roast I tossed two red belle peppers on the grill to blacken. While they cooked I nuked a couple yams, peeled the skins off and mashed them with a big pat of butter.
Once the meat reached 130 degrees I pulled it off the grill and let it rest. I tossed the peppers in a paper bag to steam and started on the last side. I sauteed diced bacon under low heat to render off as much fat as possible, then raised the heat and stir-fried a bunch of kale in the bacon grease.
By the time it was done everything was ready to go. I sliced the roast, added a dollop of Kerrygold Garlic and Herb butter and presto! Supper is served!
As many have reminded me today, the new
Star Trek movie
has come out so...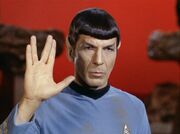 Night y'all!